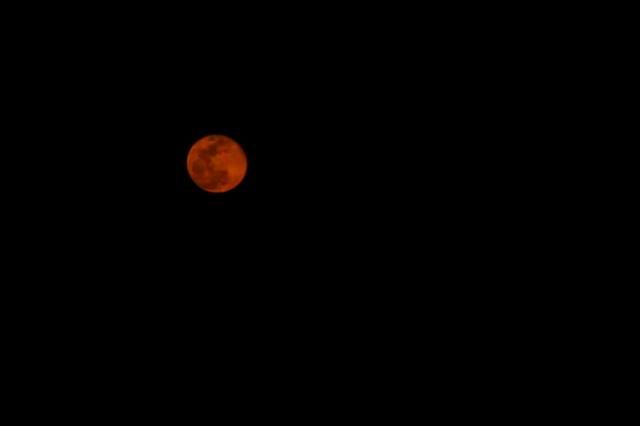 Red moon, as seen from Uganda on the 4th of July, 2012.
I was sitting outside on a plastic yellow slide this evening and happened to look up at the moon, a little hazy against the still-quite-blue sky. I squinted a little at the splotchy unevenness, intricate dips and craters as seen from so very far away. And then I thought about some person actually walking on that crazy far-away sphere—something that kinda blows my mind.
The thing is, I'm really tiny. (You actually don't have to compare me to something as large as the moon to notice that I'm tiny. But wait, did I just make a short joke?)
Personally, I find my own smallness very comforting, in a strange sort of way. I've been a bit bogged down in the "big" things lately—plans being made and falling through for the summer; questions of college and higher education; thoughts about calling and life direction. It's all a bit too much for this girl to wrap her mind around.
But then, always, I come back to the smallness. The deep breath and the realization that these things, these big decisions of mine, aren't really very big at all. The thought that I've already been given my direction: to carry the name of Christ with me wherever I go. To bear fruit. To "fear God and keep his commandments, for this is the whole duty of man."
And knowing this, to choose between a mission field on the other side of the globe or a foster care license, a semester mentoring students in communication or volunteering for a non-profit—I can make a decision in the quiet confidence that there is no "wrong decision" when your actions are aligned with our purpose in Christ.
Thank God for the smallness that allows us to turn our focus to the things that really matter.
ps. Departure for Uganda is in exactly two weeks. Prayers appreciated as I head into a flurry of finalizing plans and packing for the summer.