BethM on October 3rd, 2014
Since beginning this art-teacher adventure of mine, I've done a fair bit of searching for good art teacher reference blogs. Turns out there's plenty of good ones out there, but very few that translate well to my overseas situation. (If you know of any overseas art teacher blogs, let me know!) In the meantime, however, I figured I can throw my own two cents into the blogosphere. Maybe next time someone comes around Google searching "overseas Africa elementary art teacher blog," there will be at least one relevant post…with more to come.
Today's P2 (1st grade) adventure: mixed media!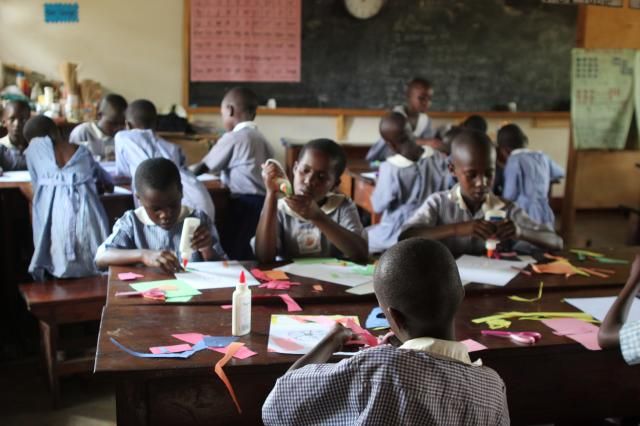 This is the first class period I've rearranged my classroom. At EEVPS, we have these horribly skinny desks that make for very little work space for the kids. Functional, yes; conducive to creativity and exploration, nope. So my one-hour period began ticking away as I encouraged the kids to help me move every two desks together and place a bench along both sides, creating one normal-sized table surface. With 25 kids in each P2 section, I decided to create five work tables and placed five kids at each one. (It sounds so simple. Yeah, no. Even with my encouragement and my assistant's translation, there was all sorts of table-hopping before we finally had five students sitting at each table.)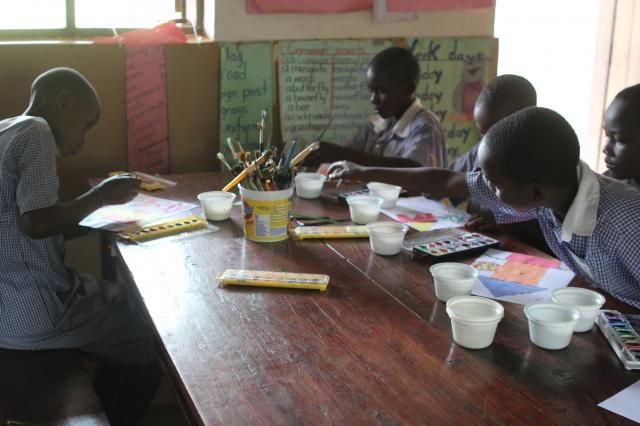 Takeaway #1 from my mixed media lesson: time runs. Set-up (and settle down) took us a good 10 minutes, after which I gave a quick introduction to the definition of mixed media. I explained to the kids how I'd set up our classroom for the lesson, and produced five different "mediums" to put at each table: oil pastels, watercolor paints, construction paper with scissors and glue, crayons, and some extra craft supplies for fun accents.
Of course a couple of these stood out as the "favorites." I gave each of the kids a paper and told them they would have five minutes to work at their first station, creating whatever picture they chose, before rotating to the next station.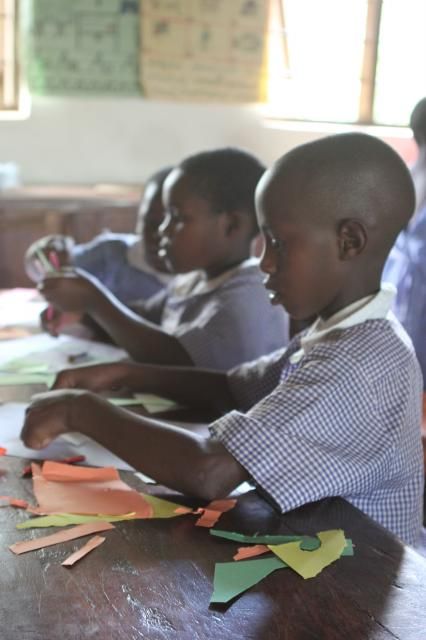 Takeaway #2: Before asking 25 kids to move to the next station, it's useful to be very clear in explaining exactly where the next station is! We had a few moments of uncontrolled chaos as twenty kids made a beeline for the watercolor paints, but things quickly got reined in and set back in order.
Aside from the time limitations at each station and the requirement to add something using each medium, this lesson was very open and not at all teaching intensive. If given more time (or if the lesson were split across two periods), I think it would be a great addition to show more examples of famous mixed media works—Paul Klee, perhaps? In my classrooms, this is difficult due the lack of resources and technology, but there might be ways around that.
So in spite of our one-hour period being conducted for a large part under controlled chaos, the kids had a blast creating—and in the crazy chaotic moments, that's a definite bright spot! I loved seeing the finished products, with all the variety and personality in each one.
This is definitely a project I'll use again in the future, though probably with some modification. Mixed media: success!